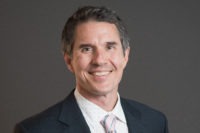 Join Northern Inyo Healthcare District's Dr. Richard Meredick for a Healthy Lifestyle Talk on NIHD's recent developments in treating knee joint pain.
The talk, titled "Advancements in Treating Joint Pain," is set for
Tuesday, July 26, at 5:30 p.m. This presentation will include the first public live demonstration of NIHD's new Stryker Mako SmartRobotics TM system.
Earlier this year, NIHD added the Stryker Mako SmartRobotics TM system to its operating room. The addition made NIHD the first Eastern Sierra healthcare facility to offer robot-assisted total knee replacement surgery. For Dr. Meredick, this advancement means enhanced surgical precision, 20 years in the making.
For patients, it means less post-surgery pain, better soft tissue protection compared to manual techniques, and in some cases, better bone preservation.
Dr. Meredick is a board-certified orthopedic surgeon serving NIHD through the Northern Inyo Associates Orthopedic Clinic. Dr. Meredick specializes in total joint reconstruction and replacement, complex fracture care, and sports medicine. A graduate of the University of Pittsburgh School of Medicine, Dr. Meredick completed his residency at the Akron General Medical Center. He completed additional fellowship training in Arthroscopic Surgery and Joint Reconstruction at the highly regarded Taos Orthopedic Institute.
Dr. Meredick joined NIHD nine years ago and, along with his partners, Drs. Mark Robinson and Bo Nasmyth Loy, have made critical and advancing contributions to NIHD's medical services.
The Mako SmartRobotics TM is the second robot-assisted system used within NIH's operating room. The first system added was the da Vinci Surgical System in 2015.
This educational presentation is part of NIHD's ongoing Healthy Lifestyle Talk Series. These monthly talks are open to the public and free of charge.
Once again, the talk will be presented in three formats to accommodate as many people as possible:
 In person in the Main Lobby of Northern Inyo Hospital. In keeping with state regulations, socially distant seating is limited to 18 on first come, first serve basis. Please note a mask is required to enter the hospital.
 Broadcast LIVE on the Northern Inyo Healthcare District YouTube channel. Please note that to participate in the Q&A session on YouTube, you will need to be logged in to that service.  It would be best to log into Zoom if you do not have a YouTube or Gmail account.
 Presented live on Zoom. For information, please visit www.nih.org/events-calendar.
About Northern Inyo Healthcare District: Founded in 1946, Northern Inyo Healthcare District features a 25-bed critical access hospital, a 24-hour emergency department, a primary care rural health clinic, diagnostic imaging center, and clinics specializing in women's health, orthopedics, internal medicine,pediatrics and allergies, general surgery, colorectal surgery, breast cancer surgery and urology.
Continually striving to improve the health outcomes of those who rely on its services, Northern Inyo Healthcare District aims to improve our communities one life at a time. One team, one goal, your health.