NIHD press release
Last year the Northern Inyo Healthcare District Board of Directors and leadership developed a strategic model designed to enhance local medical services and improve access within the next five years. At the June 21st Board meeting, the Directors took the next step and unanimously approved the District's 2017-18 fiscal year budget.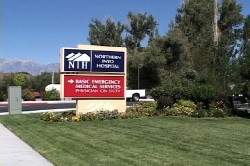 While the budget included an 8 percent price increase in some service categories, District leadership strongly felt that by investing today the District will be well positioned to navigate the changes that are coming due to policy and budget decisions made in Washington D.C. and Sacramento.
District CEO Kevin S. Flanigan, MD MBA, said: "This is a budget for a transition year, a year that allows the District to shift gears toward a more sustainable fiscal position while offering better access to primary care and more outpatient services."
Interim Chief Financial Officer John Tremble reported that even with the increase NIHD's Average Daily Inpatient Charge would still be nearly $4,000 less than the state average of $16,000 per day for similarly sized hospitals. At $12,300 it is more than 50 percent less than other local competitors to the north.
Tremble said NIHD faces many of the same budget challenges as its peers including rising base wages, a new and untested national healthcare bill, and limited governmental reimbursements. To meet the challenges, Tremble said NIHD would need to jumpstart growth in its service areas including surgery, imaging, laboratory and procedures.
Before the budget presentation, Dr. Flanigan recapped the path board leadership is taking to improve the district within the next few years.
"Last year we began pursuing proper strategic planning, specifically looking at the next three to five years," Dr. Flanigan explained. "We have invested a lot in reviewing our Strategic Plan from an operational standpoint – looking at our patient experience, our workforce experience, our data and information work."
While that operational review will continue, Flanigan said the 2017-18 budget represents efforts to shift NIHD's position to be more in line with the fiscal strategy set during the past 15 months. This is a move that will align the District with its peers across the nation. It also will solidify the District's revenue stream, allowing leadership to focus on the expansion of outpatient services in hopes of better meeting the needs of the District's residents.
"Industry standard for Critical Access Hospitals sets a 90/10 ratio for outpatient revenue versus inpatient revenue," Flanigan explained. "In an ideal setting, outpatient services would generate 90 percent of revenue and inpatient services would make up the remaining 10 percent. Our goal is to reach an 80/20 ratio in the next three to five years."
Flanigan said preserving existing inpatient services while expanding outpatient services is crucial to a positive fiscal plan outcome. "It will take us from where we have historically been – a one to one-and-a-half percent margin – up to a comfortable and consistent five percent margin, perhaps more," Flanigan said.
The 2017-18 budget will push the District toward a 70/30 ratio. It's a move Flanigan called "significant progress" considering the District historically has run a 64-to-66 percent outpatient revenue and 34-to-36 percent inpatient revenue.
Interim CFO Tremble outlined the outpatient service expansion covered in the new budget. Tremble said an increase in the Rural Health Clinic's support staff is designed to free up the physicians for more clinical time with patients. He estimated the move would add the potential for 4,800 additional patient visits at the RHC in the first year.
Tremble said other staffing investments including a new clinical dietician and three physical, speech and occupational therapists would increase services available to the community. He noted that area schools and other community agencies often purchase time with these specific positions, offsetting some costs to the District and helping to meet the needs of those community members.
Tremble also provided the Board with insights into some of 2016-17 year-end statistics:
The Rural Health Clinic saw almost 30,500 patient visits for the year.
If Emergency Department visits keep pace, the number of visits for 2016-17 will break the 10,000 visit mark.
Outpatient Visits were up in 2016-17. Trembled credited Rehabilitative Services for much of the increase.
Laboratory services at NIHD continue to grow in both the in- and outpatient categories.
The average length of inpatient stays dropped this year from 3.4 days down to three days.