Northern Inyo Healthcare District will host a "Meet and Greet" reception introducing some of its newest emergency care providers to the community.
The reception is set for Monday, Nov. 23rd, 5 – 6:30 p.m. at the main lobby of Northern Inyo Hospital.  The physicians spotlighted during the event include: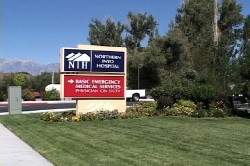 Peter Bloomfield, MD, a veteran emergency care physician, has enjoyed time abroad, offering his services as an earthquake relief worker in Haiti, as a Peace Corps volunteer in Belize, and back home again as a Pharmaceutical Assistant at a Washington, DC free clinic. Bloomfield earned his Bachelor of Arts degree in History from Williams College in Williamstown, Massachusetts. He earned a Masters in Public Health and his Medical degree from Johns Hopkins University in Baltimore, Maryland. A residency at UCLA brought him west. In his off-time, Dr. Bloomfield practices yoga and meditation, and studies Kung Fu.
Anne Goshgarian, MD, earned her Bachelor of Science degree in Kinesiology, with Highest Honors from University of Illinois in Urbana-Champaign, Illinois. She earned her Medical degree from Creighton University School of Medicine in Omaha, Nebraska. Dr. Goshgarian completed her residency in Emergency Medicine at the University Medical Center of Southern Nevada in Las Vegas, Nevada. Dr. Goshgarian provides voluntary medical care to many artistic festivals including Nevada's Burning Man Festival and the Electric Daisy Carnival.
William "Will" Timbers, MD, hails from Vermont and grew up with a zest for outdoor living. An avid skier, accomplished high school and collegiate Lacrosse player, and climbing enthusiast, Dr. Timbers enjoys many of the outdoor activities Bishop offers and looks forward to learning more about our area. Dr. Timbers earned his Bachelor of Arts degree in English Literature from Saint Lawrence University in Canton, New York, and his Medical degree from the University of Vermont's College of Medicine. He completed his Harvard-affiliated Emergency Medicine residency at the Beth Israel Deaconess Medical Center in Boston, Massachusetts.