NIH, Sevaro partner to provide expert level Neurology care Northern Inyo Hospital is partnering with Sevaro, a leading provider of tele-neurology services, to expand its neurology coverage and provide acute and general neurology care to its patients.
Sevaro enhanced and personalized tele-neurology with the primary goal: to enable partner
hospitals to enhance stroke care and save lives. Sevaro OneCall™ technology will connect
Northern Inyo Hospital staff directly to an on-call vascular neurologist in just 45 seconds.
More than 15 NIH patients have benefited from this collaboration in the few short weeks since
the partnership's launch. The first patient believed to be suffering from stroke symptoms, came
in just 10 hours after the official go-live for the technology. Weeks of meetings, preparation, and
workflow training for the NIH staff resulted in positive patient outcomes. Now, NIH staff are
managing more stroke-level cases in-house and allowing patients to stay closer to home and
family.
The partnership allows NIH doctors immediate access to Sevaro's board-certified vascular
neurologists and provides faster and more accurate diagnoses and treatments for neurological
conditions such as strokes, seizures, and other acute neurologic events. With this collaboration,
patients coming to NIH can access high-quality neurology care without transferring to a distant
tertiary referral center.  "Partnering with Sevaro is a significant step for our hospital in providing the best possible care to our patients," said Northern Inyo Hospital Interim Chief Medical Officer Dr. Stefan Schunk. "With their tele-neurology expertise, we can now offer acute neurology care services previously unavailable to our community. We believe that this partnership will help us to provide the best possible patient outcomes for the people of Northern Inyo County."
NIH expects the partnership to help reduce healthcare costs by avoiding unnecessary
hospitalizations and transfers to larger medical centers hours away.  Sevaro's telemedicine platform provides a secure and reliable platform for doctors to connect with patients remotely. With video conferencing and real-time data sharing, Sevaro's neurologists can remotely evaluate patients and make informed decisions about diagnosis and treatment
options. This technology will allow Northern Inyo to access neurology specialists 24/7/365,
ensuring that patients receive timely care when time is everything.
"We are excited to partner with Northern Inyo to provide tele-neurology solutions to their
patients," said Sevaro Chief Executive Officer Dr. Raj Narula. "Our goal is to improve patient
outcomes by making specialty care more accessible and efficient. With our seasoned vascular
neurologists and revolutionary technology, we can provide the finest acute neurology care
services in the world to NIH patients, helping to bridge the gap in specialty care and keeping
patients and their families where they want to be, close to home."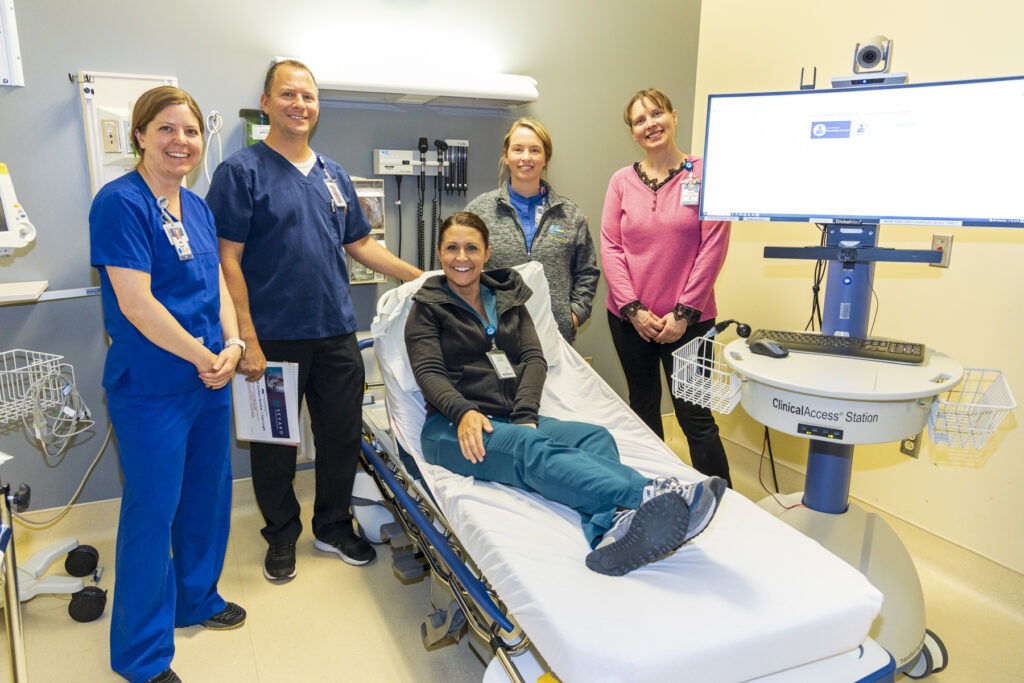 NIHD team members did numerous trial runs with the new Sevaro tele-neurology service before going live with the telemedicine platform, designed to connect the team with an on-call vascular neurologist in just 45 seconds. Here, during one of those mock runs, are from left, Jacinda Thomsen, Emergency's Clinical Support and Education Registered Nurse; Justin Nott, Director of Nursing for Inpatient Services; mock patient Wendy Derr, Manager of NIH's Emergency Department; Brooklyn Jenkins, Manager of NIH's Intensive Care and Acute-Subacute units; and Lynda Vance, Manager of the Project Management Team.
The telemedicine platform is to the right of Vance. Photo by Barbara Laughon/Northern Inyo
Healthcare District
About Northern Inyo Healthcare District: Founded in 1946, Northern Inyo Healthcare District features a 25-bed critical access hospital, a 24-hour emergency department, a primary care rural health clinic, a diagnostic imaging center, and clinics specializing in women's health, orthopedics, internal medicine, pediatrics and allergies, general surgery, colorectal surgery, breast cancer surgery, and urology. Continually striving to improve the health outcomes of those who rely on its services, Northern Inyo Healthcare District aims to improve our communities one life at a time. One team, one goal, your health.