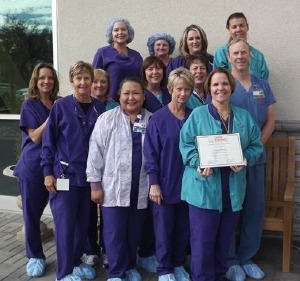 Northern Inyo Hospital Receives National Recognition for
It's Support of Perioperative Nursing Certification
by Angie Aukee, NIH Community Development Director
Northern Inyo Hospital is pleased to announce it has recently earned the CNOR(r) Strong designation from the Competency & Credentialing Institute (CCI).  The CNOR Strong designation is given to facilities having at least 50% of its OR nursing staff CNOR certified, and provides programs that reward and recognize its certified nurses. This is the first year CCI has awarded this elite status to facilities nationwide.
The CNOR(r) certification program is for perioperative nurses interested in improving and validating their knowledge and skills, and providing the highest quality care to their patients. Certification also recognizes a nurse's commitment to professional development. It is an objective, measurable way of acknowledging the achievement of specialty knowledge beyond basic nursing preparation and RN licensure.
Research shows that nurses who earn the CNOR credential have greater confidence in their clinical practice. Thus, a team of certified nurses who have mastered the standards of perioperative practice provides even more empowerment, further advancing a culture of professionalism and promoting improved patient outcomes. This strength in numbers is why CCI launched the CNOR Strong program; to recognize those facilities committed to making a difference for its patients both inside and outside of the OR.
Patient safety and positive surgical outcomes are of the utmost importance to a facility, and supporting nurses as they exceed expectations to achieve their perioperative nursing certification shows Northern Inyo Hospital's commitment to its core values.
Phyllis Meneses, Manager of Surgery and Central supply stated, "I am very pleased to announce that our surgery nursing staff has been awarded the CNOR Strong Award.  This means that over half of our RN's are nationally certified nurses in the field of surgery.  We as nurses are very fortunate that we work for such a supportive facility.  Northern Inyo hospital values nursing and encourages our nursing staff to go beyond and get further education."
Established in 1979, CCI provides the CNOR(r) and CRNFA(r) credentials to more than 34,000 registered nurses, making it one of the largest specialty nursing credentialing organizations and the leading certification body for perioperative nurses. The mission of CCI is to lead competency credentialing that promotes safe, quality patient care and that supports lifelong learning.
For more information about the Competency and Credentialing Institute, visit www.cc-institute.org<http://www.cc-institute.org>.  For more information on Northern Inyo Hospital, contact Angie Aukee at 760-873-2165.
Northern Inyo Hospital is a 25-bed Critical Access, not-for-profit hospital located in scenic Bishop, California. The only hospital for 150 miles that is accredited by The Joint Commission, Northern Inyo Hospital has been providing high quality healthcare in the Eastern Sierra since 1949.