Press release from Northern Inyo Healthcare District
At a special meeting, the Northern Inyo Healthcare District Board of Trustees directed administration to continue staffing needed areas with traveling nurses and to continue offering Obstetric services despite low staffing and the service operating at a loss.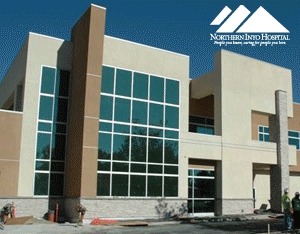 Of the four trustees present, each said they could not imagine NIHD not offering obstetric services. "I agree that it's not a cash cow, so to speak, but we've got to have it," Board President Denise Hayden said. "There are too many lives at risk having to travel elsewhere. We cannot take that chance for our community members."
"Plus, like everyone else in the community, we want to see younger people start their families here," Trustee MC Hubbard said.
Trustees Dr. John Ungersma and Pete Watercott were also present, with Mary Mae Kilpatrick absent.
Administration asked trustees to address two topics last Friday: one, the use of travelers for staffing purposes, and two, whether to continue offering obstetrical services to the community. Both issues go hand-in-hand as traveling nurses are frequently relied upon to keep the Obstetrics, or OB, unit open.
During public comment, Christine Hanley, one of NIHD's Registered Nurses, told the trustees while she primarily works in the Medical-Surgery Unit, she has occasionally been asked to assist in the Postpartum Unit.
"The hospital has been able to deliver safe care because of the work of nurses," Hanley said. "We've been using traveling nurses to help maintain safe staffing levels and keep the hospital open. This is not an ideal use of resources but historically has been used in different areas of the hospital. OB especially has a long history of using these people."
Hanley went on to say she would not address how traveling nurses affect the permanent staff. "Permanent staff nurses are working extra shifts, rotating to different shifts, and floating to different units to provide extra help. All of this has been to keep our patients safe."
Hanley said there had been ongoing discussions about what constitutes safe staffing in OB. She argued while having one nurse in the Labor and Delivery Suite may meet the official patient-nurse staff ratio, it does not satisfy other state requirements calling for additional trained staff to help assist the family, monitor and evaluate labor, and assist with the delivery.
"So far we have been delivering safe care," Hanley said. "This community needs the OB unit, but it needs the experienced nursing staff to keep it safe, without getting sick from exhaustion or family stress.
"Experienced OB nurses are losing sleep at night thinking about being the only labor nurse in the hospital, or the alternative of closing the unit," she continued. "With patient safety being our ultimate goal, if we need to close the unit temporarily to keep them safe, it's a hardship, it's not what we want, but we have to consider patient safety and meeting an adequate safe staffing level will help with that."
During his presentation, Kevin S. Flanigan, MD MBA, the district's Chief Executive Officer, explained if the healthcare district filled every job it has, the district would employ 481 people.
Currently, the district employs 415 people, of which 21 are traveling nurses, often referred to as travelers. Sixty-six jobs remain unfilled by either permanent employees or travelers.
Flanigan said the number of travelers employed at the district was somewhat fluid depending on the staffing needs. Most often, travelers are placed in highly specialized areas such as Labor and Delivery, the Emergency Department and Rehabilitative Services.
Dr. Flanigan outlined the pros and cons of staffing with travelers. Among the pros: Travelers bring in experience from other areas. While cost is typically higher than employing permanent staff, NIHD has encountered times when travelers cost less, and they help NIHD preserve access to services.
"As you heard from nurses earlier this evening, travelers fill necessary positions. Their presence allows us to maintain continuously all the services we offer and for a preservation of jobs," Dr. Flanigan said.
"In understaffed units, travelers mean full-time staff is not overworked, not overstressed and their personal and professional lives don't suffer because of additional work placed on them. There is a concern about burnout when staff is picking up too many extra shifts."
Typical traveler drawbacks, according to Dr. Flanigan, are they have no intent to become part of the community, and sometimes the cost is higher. Some travelers, however, have chosen to sign on permanently at NIHD and are valued members of its team, including this year's DAISY Award winner, Rhonda Aihara.
Trustees were faced with a decision of either eliminating travelers and shrinking down services; continuing to use travelers and maintain services, or; hiring travelers to do very specific tasks and release them from contract when they complete the tasks.
The Trustees agreed to continue using travelers so as to preserve access and allow NIHD to continue to offer a broad range of services.
Also, Dr. Flanigan said the district would work on leadership development efforts so that NIHD can "grow its own" nurses.
Acting Chief Nursing Officer Tracy Aspel urged all in attendance to collaborate until that is a reality. "In the interim we have to figure out ways to make the staffing work," she said. "We all have to work together."
Board president Denise Hayden liked the idea of NIHD growing its own nurses.
"I hate to drop down the numbers in staff because they have worked their tails off to get us to where we are today," Hayden said. "That would be pulling the rug out from beneath all their hard work, and that's not what we're about. It's important to use travelers so they can get us through those transitions until permanent nurses can fill those positions."
Board member Dr. Ungersma agreed. "Promoting from within is a great goal. We should give any employee the opportunity to advance. That's part of our job to ensure that our people have a future where they can rise up, improve themselves and the efficiency of the hospital."
The issue of travelers segued to the topic of the OB unit's future. Dr. Flanigan explained that OB services cost more than the revenue they bring in, true of most hospitals despite the size. With 200-plus NIHD deliveries last year, the need for the service is evident.
"Our purpose is to meet the needs of the community members who agreed to organize themselves and tax themselves so they can have local access to healthcare," Dr. Flanigan said. "As a healthcare district, I would argue that we need to assess the needs of the community and meet that need."
Dr. Jeanine Arndal, one of NIHD's Obstetricians, pointed out that young families not done having children would not choose to come to the community without this service.
"A lot of this has to do with cost versus investment. This hospital has invested in me, pulling me straight out of residency and letting me get my feet underneath me. I am committed to this hospital," Dr. Arndal said. "I think that as far as our community goes, obstetrics is a huge morale builder, both for our hospital and the community. People see babies in our community and young families in our community. I know I wasn't done having my children when I moved here. I wouldn't have considered coming to this place if they didn't have obstetrical services."
Dr. Arndal noted that in the community anyone without a mortgage is considered a traveler. "But think about it. Drs. Matthew Wise, Stuart Souders and others here are essentially 'travelers.' They benefit the community with their services which we wouldn't have otherwise. They give us their resources, knowledge and experience. We maybe couldn't support them full time, but this is something they offer us."
Dr. Arndal concluded, "We've invested in a beautiful Labor and Delivery Suite, we've got three doctors who work well together. We've got good patient satisfaction and customer service. It's an investment worth keeping."
Obstetrician Dr. Martha Kim agreed. "We can do some pretty amazing things here, but it can't be rigid. Everybody's got to think outside the box as was said before. This situation is not the steady state we want to be in forever, but we've got to get to where our nurses feel safe and supported. We have to think about how to entice and attract travelers to stay here," she said. "The ultimate goal is superior patient care. It's not about us. It's not about administration. It's not about nursing. It's about taking care of our patients. If we work together on that goal, don't forget that, or get sidetracked, we're going to get there."