– Press release
Northern Inyo Hospital Nurses represented by the American Federation of State, County and Municipal Employees (AFSCME) have filed Unfair Practice Charges with the California Public Employment Relations Board (PERB), demanding that the Hospital District bargain in good faith over Grievance and Progressive Discipline.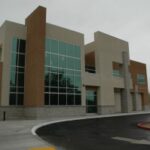 Registered Nurses have repeatedly stated that their primary goal is to re-establish a fair and supportive environment for caregivers.
"We are doing this to maintain the care and safety of our patients, to retain experienced staff and nurture new nurses in a safe culture, to be involved in NIH's financial stability, and to support the other employees at the hospital who are part of our team," explains the Organizing Committee's initial statement.
After filing with PERB on February 2, the Nurses' Union was formally recognized on March 17, held Negotiating Committee elections on March 26, began collecting Bargaining Surveys, and engaged in the formal bargaining process by initially meeting with the District on March 31. Bargaining Surveys showed overwhelmingly that a fair Grievance Procedure and the District's Medical Leave Policies are of great concern to nurses.
These policies are linked because of the District's practice of terminating sick employees after just 16 weeks of Leave. Most employers, and particularly Hospitals, give significantly longer unpaid leaves, enabling employees to return to their positions upon recovery.
"One nurse gave over 25 years of service to this hospital, got cancer and was separated," explains Laurie Archer, a Recovery Room Nurse and member of the Nurse Negotiating Team. "The District's current Medical Leave policy is inhumane, unrealistic, and does not support the retention of skilled caregivers for this community."
In April, the Hospital District's Board of Directors changed the Hospital's Grievance policy by eliminating the Board of Directors as the final decision makers in any termination appeal, and delegating the final determination to Hospital CEO Victoria Lane.
Since during bargaining it is unlawful for the District to make changes for Registered Nurses without first bargaining with the Union, Nurses understood this change would not apply to them. Nurses attended the Board meeting, however, to support unrepresented employees, and, along with other employees, called on the Board of Directors not to proceed with this change.
After the Board passed the policy in spite of these appeals, NIH Administration informed Union leaders that it would be implemented for all employees, including Registered Nurses.
Nurses informed the District that this change was unlawful during the bargaining process. The Union did not decide to file charges, however, until the District went even further, informing the Nurse Negotiating Committee on May 22 that it would not be bargaining over Grievance or Discipline in Union Negotiations.
Since just cause discipline and a fair grievance procedure are among the most important elements of any Union contract, it's difficult to imagine a more flagrant sign of bad faith.
The PERB Charge also asserts that NIH has been unlawfully removing Union notices from hospital break rooms while leaving other non-work related notices up on bulletin boards.
This is the second set of PERB Unfair Practice Charges nurses have had to file against Northern Inyo Hospital. The first Charge was filed while they were completing the organizing process in early February, after CEO Victoria Alexander-Lane sent an email to employees alerting them to language in their Retirement Plan that could exclude unionized employees from the Plan. The Union asserted that the email, and the Plan itself, were threatening and discriminatory, making them unlawful under California Labor Law.
In response to the Charge, the Hospital District amended its Plan to make it possible for Union employees to bargain the Plan into their contract, and notified NIH Employees that it had done so. Since the Hospital District had only recently settled the retirement related charges, nurses were shocked that the District almost immediately proceeded to commit further violations, potentially triggering another expensive legal battle.
"We're concerned that the District may be using valuable public resources to fight its Registered Nurses, when we should all be working together to resolve these issues and focus on continuing to provide the best possible patient care to our community," says Nurse Negotiator and 2013 Daisy Award Winner Chris Hanley, "We call on the District to demonstrate its good faith, by agreeing to a fair contract with its nurses."