Press release
Kelli Huntsinger was named as the Chief Operations Officer of Northern Inyo Healthcare District last week. The Bishop resident will move into her new role by the end of this month.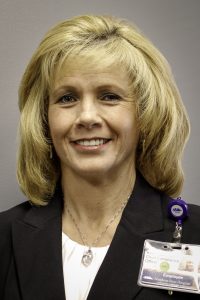 "I could not be happier seeing someone from the Bishop Community develop the leadership abilities to step into the COO position," said Kevin S. Flanigan, MD MBA, the district's Chief Executive Officer. "This is a vital role for our organization moving forward and integral role in tomorrow's healthcare services."
Huntsinger advances from her current position as the district's Chief Compliance Officer. Before that, she served as the hospital's Director of Health Information Management (HIM). She has worked at Northern Inyo Hospital for five years.
"Kelli has a breadth of knowledge and experience both within and outside NIH," Dr. Flanigan said. "She has extensive experience at the management level, having served as the assistant administrator at Bishop Care Center and Executive Director at Sterling Heights."
Huntsinger's career in healthcare began in 1985 and showed steady advancement. In addition to her roles at NIHD, Huntsinger has worked as a medical biller, a transcriptionist, the HIM Manager at Mammoth Hospital and a healthcare consultant in Reno, Nevada.
As COO, Huntsinger will oversee the day-to-day operations of NIHD's life safety service departments including areas such as Maintenance, Property Management, Security, Dietary, Environmental Services, Pharmacy, Diagnostic Imaging, Rehabilitative Services and Laboratory. She will report directly to Dr. Flanigan.
"I am excited to have this opportunity to work closely with many of the service areas that have the privilege of interacting with our patients and community," Huntsinger said Friday. "As COO, I will have a broader role in the coordination of the day-to-day hospital operations that are so vital to the delivery of quality and cost-effective services. I look forward to working together with team members in these service areas and empowering them to do what they do best."
She said her top goal remains moving the district toward meeting its strategic plan. "I look forward to applying my skills, knowledge and experiences toward the NIHD mission and vision of building effective partnerships and the promotion of collaborative relationships in patient healthcare and amongst our team," she said.
Huntsinger is currently pursuing her Master's degree in Business Administration with a Healthcare Management focus. She holds a Bachelor's degree in Business Administration with a Healthcare Management and Human Resources focus, as well as certifications in Healthcare Compliance, Privacy and Security Compliance, and Healthcare Ethics.
Huntsinger is the mother of three grown children – Alesha, a married mother of two; Patrick, a police officer, and; Carly, a registered nurse. Huntsinger's family roots in the Owens Valley go back five generations, and remain strong as not only Huntsinger but her parents and sister and her family reside in Bishop.
Huntsinger spends her free time with family, especially her grandsons. She also enjoys bicycling, golfing, motorcycling and NASCAR.