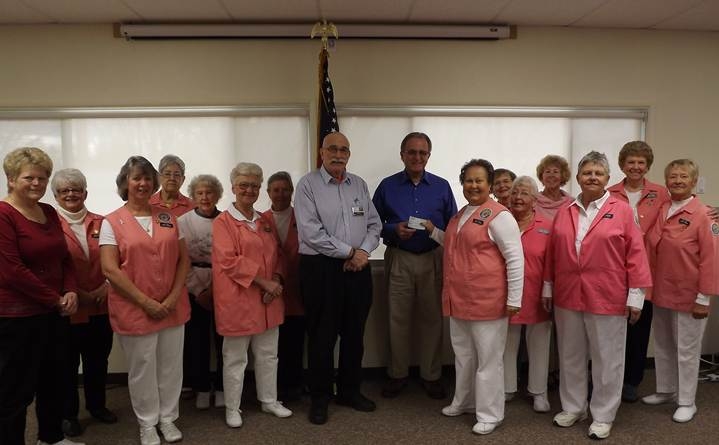 Northern Inyo Hospital Auxiliary Gives Big To The Community!
The Northern Inyo Hospital Auxiliary presented a check today in the amount of $40,000 to Northern Inyo Hospital (NIH) to assist the purchase of a somo*v Platinum Automated Breast Ultrasound System (ABUS).
This new technology will aid in diagnosing the approximately 40 percent of women who have breast tissue that is so dense, cancer can be missed through conventional mammography.  Northern Inyo Hospital, in collaboration with Dr. Stuart Souders, a Board Certified Radiologist dedicated to Breast Imaging, has identified the somo*v Platinum ABUS to address this problem for our residents. This very generous gift from the NIH Auxiliary will go a long way toward the total purchase price of the ABUS system.
From left to right- Cheryl Underhill, Betty Dickey, Pat Nolan, Betty Brown, Carolyn Liberato,
Sharon Brown, Aleta London, John Halfen, Dr. Stuart Souders, Judy Fratella, Sharon Thompson,
Shirley Bourelle, Cathryn Bahm, Susan Zimmerman, Shirley Stone, Ruth Steen.
The Northern Inyo Hospital Auxiliary sincerely thanks the residents of this community for supporting their Gift Shop, located in the front lobby of NIH's new facility, and their annual Boutiques and Hall Sales.  This $40,000 donation represents thousands of hours of volunteer time.  All of the monies raised by the Northern Inyo Hospital Auxiliary fund the purchase of life saving equipment for the hospital. To join the NIH Auxiliary, feel free to drop by their meetings which occur every Wednesday from 10:00 am-12:00 pm  at the corner of Birch Street and Grandview (across from the Jill Kinmont Boothe School),  or download an application online at www.nih.org<http://www.nih.org>.
Northern Inyo Hospital is a 25-bed, Critical Access, not-for-profit hospital in scenic Bishop, California. The only hospital for 150 miles that is accredited by The Joint Commission, Northern Inyo Hospital has been providing high quality healthcare in the Eastern Sierra since 1946.