Nicolas 'Nic' Adam Timerman died peacefully at home with family on September 18th 2016 in Bastrop, Texas at the age of 28 after a long illness.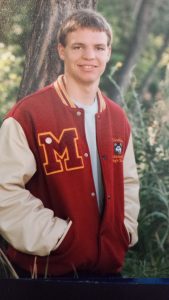 Nic is survived by his parents, Mark and Julie Timerman of Bastrop; Brother Kenneth, Sister Toni and Nephew Lucas Timerman of Bastrop. Grandmother Helen Timerman of Carlsbad, CA., Grandparents Jimmy and Jennece Distler of Yucaipa, CA. Aunts and Uncles John and Mouse Timerman of Riverside, CA. Roy and Vicki Timerman of Vista, CA. Tony and Teresa Timerman of Stevens Point, WI. Robert and Virginia Lugo of Redlands, CA. and John and June Hutchison of Yucaipa, CA along with many cousins.
Nic also leaves behind his service dog Jackson.
Nic is preceded in death by Grandfather Roy Timerman of Carlsbad, CA. Uncle Michael Timerman of FL. and Uncle Jimmy Distler of CO.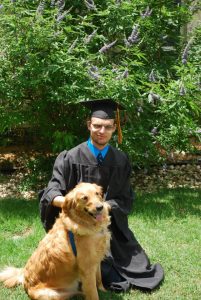 Nic was born on November 21, 1987 in Bishop, CA. He graduated from Mammoth High School in 2005. Nic was also a volunteer with Mammoth Lakes Fire Department.
After moving to Texas in 2006, Nic attended Texas State University and graduated with a degree in English. Nic was also a member of the International English Honor Society Sigma Tau Delta. Nic was currently working for Bastrop Independent School District as a Substitute Teacher while working on this Master's at Texas State University.
Texas State University has awarded Nic with his Master's posthumously.
Nic was dedicated to his desire to educate students and loved reading, music, movies, his family and friends. Nic believed teaching was a passion and was not a profession you pursued for money or recognition.
A Celebration of Life will be held on November 5th from 2pm – 4pm at Mammoth Lakes Fire Department, Mammoth Lakes, CA. All are welcome to attend and celebrate Nic.
In lieu of flowers the family requests a donation be made to one of the following organizations:
National Brain Tumor Society: http://braintumor.org/join-the-fight/ways-to-give/
Texas State University: https://donate.txstate.edu/donate?fid=Jo5ULHwiNfw%3d&fdesc=%2fkbzDCQOhIUm9WGCmcgqTf3R7tzz9%2fQNfmXO%2b%2b329uI7E8p%2f62ryCw%3d%3d
Service Dogs Inc.: http://www.servicedogs.org/