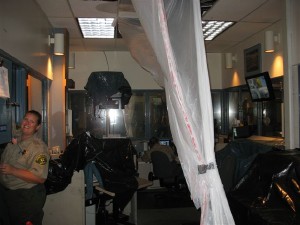 MONO: The startling flood at the Mono County Jail this week caused closure of the jail itself and some offices. As a result, around 25 prisoners went to stay temporarily in the Inyo County Jail. To organize trips to court for these inmates, Mono County has rearranged its criminal court calendar for Tuesday.
Cases scheduled for the Bridgeport court have been moved to the Mammoth Lakes Branch court, according to Court Executive Officer Hector Gonzalez. He asks that if you are scheduled to appear for a criminal matter in Bridgeport on October 20th, please come to the Mammoth Lakes branch court. The time is the same. If you have questions, call Mono County Superior Court at 924-5444.
INYO: Friends, colleagues and relatives of former Inyo District Attorney Buck Gibbons will honor him with a plaque in the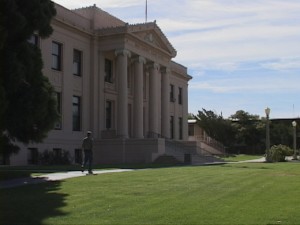 upstairs foyer of the Independence courthouse where Gibbons used to work. He passed away several years ago.
Another former District Attorney, who worked with Gibbons, Phil McDowell said that Judge Dean Stout, Attorney Tony Rossmann, himself and Gibbons wife, Sybil have been working on the plaque commemorating Gibbons dedication to the environment and service to the public. A ceremony was planned for today at 1pm at the courthouse.