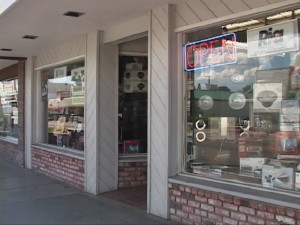 News in brief from our region – Supply Audio/ Video in Bishop was burglarized. Bishop Police said someone smashed down the back door, entered the store and smashed open some glass cabinets.
Police said the burglar took lap top computers, ipods and camcorders. Estimated value of the stolen items is $3,000. Reports said that a gold-colored mini-van was seen in the vicinity although police said it is not known if this vehicle was connected to the burglary.
If you have any information on this crime, call Bishop Police at 760-873-5866.
In Mammoth Lakes, another Wildlife Committee meeting. Town Council members did not show up, so only public comment took place. Cabin owners in the Lake Mary tract of the Lakes Basin showed up to thank the Town of Mammoth and the Police Department for taking care of the bear that continued to break into their cabins.
Marianne O'Connor of Bear With Us and Gaye Mueller of the Arts Council assured officials that they would make sure vendors at future Labor Day Art Festivals have clearly stated instructions on how to bear proof their booths. They may work with the Health Department to attach these warnings to health permits.
This appearance was in response to a bear-person encounter at the Art Festival.