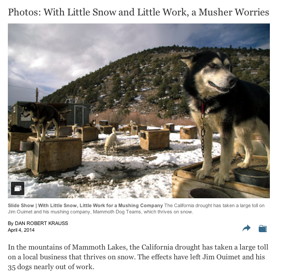 The drought hurt lots of businesses this winter but none so graphic as Mammoth Dog Teams where owner Jim Ouimet and his sled dogs took no runs at all this year of very little snow. The New York Times took an in-depth look with an article that ran April 4th.
Writer Dan Krauss visited Ouimet and said the effects of the drought have "left Jim Ouimet and his 35 dogs nearly out of work." In fact the lasts sled-dog tour for Ouimet happened in March of last year. On top of no snow, according to the Times, Ouimet's well at his kennel went dry. He has had to drive into Mammoth from his headquarters five miles outside of town to fill up big water containers for his dogs.
According to the Times article, Ouimet spends about $10,000 per year to feed the dogs. Loans from friends and relatives have helped. For Ouimet, the dogs are his life. As the New York Times article describes, Ouimet was born in Mammoth Lakes and came home in the 80s after more than four years in the Marines.
Ouimet learned the craft of mushing from Paul Marvelly of Dog Sled Adventures. Ouimet took over the business in 1999 and renamed his company Mammoth Dog Teams.
Instead of the five runs a day during a busy season, this winter has meant no work at all for the dog teams and Ouimet. In fact, the past three seasons have been rough for sled-dog runs. Like so many others, Ouimet prays for the heavy snow to return.