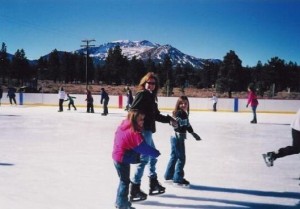 (Press Release)
Join us on Monday, December 31, 2012 from 7:30 p.m. – 9:30 p.m. at the Mammoth Ice Rink as we countdown to 2013, east coast style!
The cover is only $5 and includes skating, rentals, noise makers, and sparkling apple cider 'toast' at 9:00 p.m.
We'll also have an open house on the rental trailer with a potluck, so bring some food/snacks to share if you can.  Dress warm!
This is a family friendly event so pass the word on to anyone who is looking for something (early) to do New Year 's Eve.
Call (760) 934-2505 or visit www.mammothicerink.com for additional information.