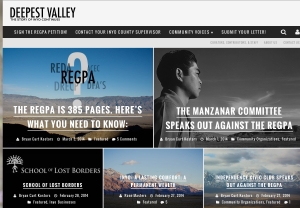 Angered by the Inyo Planning Commission's refusal to listen to the public outcry against industrial solar development, citizens have now created a website and a petition to convince the Inyo Supervisors to reject the Planning Department's Renewable Energy General Plan Amendment.
In a packed house crowd of citizens February 26th, people spoke passionately about the need to hold off designating huge swaths of land in 14 sites for potential large-scale solar or wind development. Citizens said the documentation is faulty and so is the policy. Some said the development would seriously harm the Lower Owens River Project and ongoing mitigation and monitoring in the Laws area. Overall, citizens said they do not want industrial disturbance in a Valley that lives on tourism.
In a press release, news of a new website, www.deepestvalley.com, says the site was initiated after the Planning Commission, on a 4 to 1 vote, approved re-zoning thousands of acres from agricultural and conservation to industrial development. The website editor and contributor, Rose Masters, writes that the "startling beauty of the valley is the lifeblood of the towns, supporting through tourism, their fragile economies."
The new website will also host letters and comments on the solar issue. The online petition says on March 18th, the Inyo Supervisors will vote on whether or not to adopt the Planning Department's draft Renewable Energy General Plan Amendment. The petition says adoption of this amendment would "open significant portions of Inyo County land to large-scale industrial development by corporate solar, wind and energy entities."
The petition says, "We believe that opening the door to industrial development will forever damage the most important characteristic of Inyo County: its stunning and awe-inspiring natural beauty." The petition asks the Board of Supervisors to reject the amendment to protect Inyo County but also on the basis that "the documentation itself represents unsound logic, invalid arguments to support its claims and faulty and erroneous policy-making." In less than two weeks, the petition has gained nearly 500 signatures.