Passed into law in 2005, state Assembly Bill 7, the bill that requires Fish and Game to spend one third of fishing License fees on trout production at State Hatcheries, now faces new challenges. A new bill that awaits the governors signature to become law will change the state requirements when it comes to native species of trout.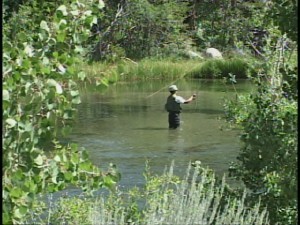 Brett Matzke, with California Trout, explained that this new bill will essentially fix problems with AB7. The original bill did not count steelhead production.The new one does allow Fish and Game to count steelhead in the mandated production numbers. Another change to the bill would allow extra hatchery raised native species of trout where they might not be native, if the native species is found to cause no harm. Matzke says that in theory species of trout that are native to California could end up in heavily stocked waters like Crowley Lake.
Under AB7, Fish and Game production goals were set in pounds of fish, the new bill allows fish and game to set production goals in numbers of fish. This means more fingerling trout will be planted. When it comes to fish stocking, Matzke explained that fingerlings have a higher survival rate then fully grown fish. It takes a year or so for the six inch fingerling to grow to be a fish that people will want to catch, but he says more will survive.
The bottom line on this bill is that it would require native trout to make up 25% of all trout that Fish and Game stocks in California waters. This could be a boon to native trout species like the Paiute and Lahontan Cutthroats, the Golden Trout along with the Eagle Lake Rainbow and the Kern River Rainbow. Steelhead may see a boost as well.
The new trout fishing related bill, SB 1260, is through the state assembly and the senate and awaits the Governors signature.