For areas of the Eastern Sierra, severely burned by fires last July, spring means a chance for recovery, or at least plans for rehab.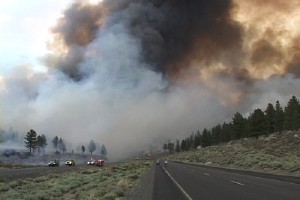 The vast acres of fire in the Inyo Complex above Independence and Big Pine left thousands of acres of burned hillsides. We have placed calls to the Forest Service about rehab and recovery. Most expect nature to bring back some of the plant life.
The Forest Service did issue a report that the agency will reforest a damaged area around June Lake – also hit hard by fire last July but not until 2010.
The Inyo National Forest plans to plant about 360 acres within the June Fire area along both sides of Highway 395, about one mile north of the south June Lake junction. The area set for replanting was covered with Jeffrey pine trees. Forest officials say they plan to plant two year-old Jeffrey pine seedlings starting in the spring of 2010.
Before then, Forest Service workers will prepare the area for planting. Crews will use prescribed burns next year to reduce fuels. 360 acres of the 680 acres that burned are set for re-planting.