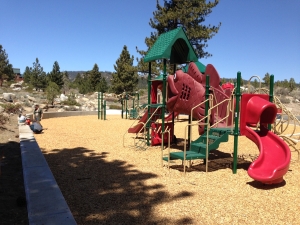 CELEBRATE THE OPENING OF THE NEW TRAILS END PARK PLAYGROUND Mammoth Lakes, CA – The new Trails End Park Playground will officially open to the public on Tuesday, May 7, 2013 at 2:00 p.m. Celebrate the opening of this new public amenity with members of Town Council, Recreation Commission, the Town Manager, Town staff, and our special guests, the kids from the Mammoth Husky Club.
"Parks and Recreation makes lives and communities better now and in the future by providing outdoor space and facilities to play and exercise," stated Stuart Brown, Recreation Manager for the Town of Mammoth Lakes. "This new community amenity will enhance our quality of life by providing a safe place for our children and families to have fun and recreate together."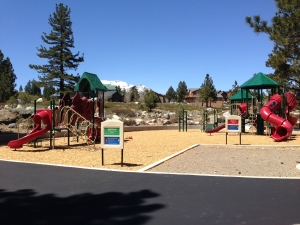 Phase I of the park was completed in November 2012 and included the installation of a playground, perimeter curb, a retaining seat-wall, access path and drinking fountain. Future components of the 5 acre parcel include: 3,000 sq. feet of artificial turf, seating, rock play structure, shade covers, expansion of the world renowned Volcom Brothers Skatepark – Little Brothers Skate Park, a water play area, quarter mile perimeter trail, and a picnic pavilion.
This project is the first phase of completion for Trails End Park and was 100 percent funded from Measure R. Approved by the voters of Mammoth Lakes in 2008, the ordinance imposed a Transactions and Use Tax in the amount of one-half percent for the purpose of funding Recreation, Trails and Parks. Website: www.ci.mammoth-lakes.ca.us
Since the inception of Measure R, over $3 Million dollars has been invested in recreation, parks and trails in Mammoth Lakes. Examples of recreation enhancements in Mammoth Lakes include: Phase 1 construction of the Whitmore Track & Sports Field, ADA lift, vacuum and pool covers for the Whitmore Pool, Nordic trail grooming, special event equipment, construction of a permanent slab and fence at the Mammoth Ice Rink, Biathlon rifles/mats and biathlon feasibility study and gymnastics equipment.
Trails End Park is the only fully planned park located entirely on Town owned property. The park has limited parking but there is access from the Town Loop multi-use path and is served by the Fixed Route Transit System.