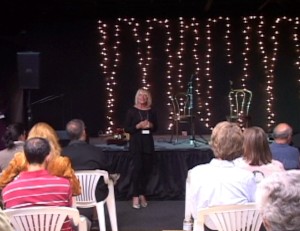 The new home of Mammoth Lakes Repertory Theater? The Luxury Outlet Mall on Main St. The Rudders worked to help re-design a store space into the new theater. Locals celebrated the new home for the arts recently.
Cleland Hoff was there as local officials and citizens hob-nobbed before a musical event in the new theater space. Shira Dubrovner heads up the theater with lots of support and promotion from Kathleen and Paul Rudder and others.
Entertainment for the evening – Marc Atkinson with his Gypsy Jazz style music.
The next performance in the new theater – The Diary of Anne Frank. More later.