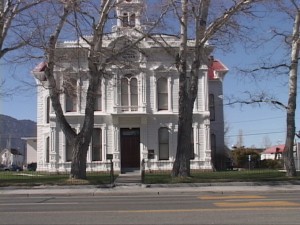 With the growth of population in Mammoth Lakes comes a change in supervisor district boundaries.  Inyo County, as usual, did not grow and will not change.
Tuesday, the Mono Supervisors examined the three alternative district proposals as presented by a citizens advisory committee.  Alternative A would include three Mammoth districts and two unincorporated area districts.   Alternative B includes two core Mammoth districts, one core unincorporated district and two split districts.  Alternative C shows one core Mammoth district and four radiating districts that touch Mammoth.
For one, Supervisor Tim Hansen does not like any of the alternatives.  He represents District 4 which now includes Bridgeport, Lee Vining, Walker, Coleville, and Topaz.  He believes the new alternatives "butcher" his district and tie together areas of the county that have nothing in common.
Two more hearings on this issue are scheduled – one at the August 9 board meeting in Bridgeport and one at the August 16 Board ofSupervisors meeting in Mammoth Lakes.  Officials say it is likely the Board will make a final decision at the Mammoth meeting.