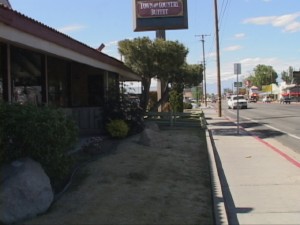 The talk about downtown Bishop lately has focused on empty spaces and deserted centers. So, hope got a boost with a new escrow on Cottonwood Plaza and now plans for a new restaurant.
Sizzler, a long-time fixture on Main St., closed up a few months back and a business called Town and Country Buffet opened up – briefly. That company pulled out and now realtor Mark MacLean says he put together a new deal. It's not a sale but a deal with the original owner, a trust in the Bay area.
MacLean said the new restaurant will be an Hibachi and Sushi Grill Buffett. He described it as Asian food, and a concentration on fresh, healthy food – organic veggies and Sushi.
The new operator is King Shao, who also owns and operates the Chinese Buffett in Ridgecrest and other restaurants on the East Coast, according to MacLean. The other good news for Bishop – the restaurant will hire 20 to 30 new workers.
The business will open possibly by the end of June with after completion of minor remodeling.