For some in Mammoth, the shine has definitely worn off high school education. Parents have worked separately on various alternatives – the Charter School, home schooling and the new California Virtual Academy. Now, Dan Dawson and Rusty Gregory have another idea.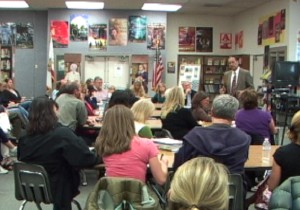 Dawson planned to speak about this new concept at tonight's Mammoth school board meeting. Dawson said that about a year and a half ago, he and Rusty Gregory started to explore opening a private school in Mammoth. He said the educational experience at the high school was perceived as limited.
After consulting with School Superintendent Frank Romero, Dawson and Gregory said they now have a plan to begin to turn the high school around. "We want to pull families back together and create a real attraction in a 3 to 5 year time frame," said Dawson. Dawson said that the small size of the high school means a limited number of courses with an inflexible schedule.
Dawson said Superintendent Romero has formed a private foundation to bring in private funding for specific school needs. Dawson went on to say that he, Rusty Gregory and Romero have a plan that would close the Charter School, bring it back to the high school with creation of an independent study center at Mammoth High.
The proposal includes two additional staff to provide missing help in science and math. Dawson said these additions would create more flexibility in the schedule and allow students to expand into a larger range of course offerings. He said Bonnie and Rusty Gregory would handle funding in the short term with the objective to have the Ski Area handle fund raising for the private foundation.
Dawson underscored that this is just a proposal. "We need some change," said Dawson, "and people seem supportive." More at tonight's school board meeting at 5:30pm at the Mammoth High School Library.