On Tuesday, the Inyo Supervisors signed off on a new ordinance that might help up to 100 home owners who own residential property in areas zoned for commercial development.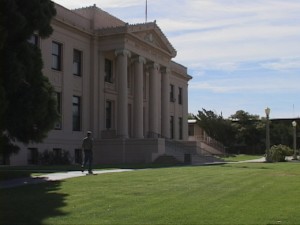 They are called non-conforming buildings, but these buildings in question are homes that were built along 395 before the properties were zoned. In the past, planners decided that the homes should be zoned commercial so that eventually there would only be businesses along the highway. The rule was that if one of these non-conforming residential buildings burned down or were somehow destroyed, they could not be re-built.
History hasnt played out that way, and as many as 100 of these properties are still used as homes in land starved Inyo County. Property owners and those that want to buy these homes have had trouble with bank financing on the properties because the buildings cannot be re-built. The county planning department had in the past issued letters that stated the property owner could re-build, but stopped in May.
Realtor Mike Johnston told the board that the values on these properties had dropped between $100,000 and $300,000 since the county stopped writing the re-build letters.
The ordinance passed by the board on Tuesday appears to be a more permanent fix than the re-build letters. With a 5-0 vote, the board approved an ordinance that allows property owners in these non-conforming properties to completely re-build their homes if they are destroyed.