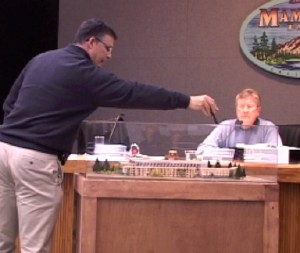 A new design, a new name, and a new process came before the Town Council at their last meeting. The project under discussion was Old Mammoth Place, formally the Clearwater. Its relatively new owner Jim Demetriades had gone back to the drawing board and was presenting a brand new design from a brand new architecture firm, BSA, described by Demetriades as an expert on snow-country development.
The Town Council had approved a new policy in August which lets them comment on a developers request for special consideration in exchange for community projects. Then the request goes to the Planning Commission.
Demetriades and his team came before the Council members to receive their blessing before delving into the process with the Planning Commission. This departure from the normal way of doing things, however, had many people confused.
Tom Moody, speaking on behalf of the Mammoth Alliance of Property Owner Associations stated in a letter that according to the new policy, one of the first tasks before a project comes to the Town Council for non-binding input is to create a list of allowable community benefits for which development incentives may be granted. Moody, as well as member of the Advocates for Mammoth John Walter, claimed this list had not been developed and therefore the Council was not following the new procedure.
Community Development Director Mark Wardlaw claimed however, that the list was in the pages of the specific plan for the Clearwater/Old Mammoth Place project, which was adopted by the Town Council this year.
All of Council, minus Councilwoman Jo Bacon who had to recuse herself because she owns property within 500 feet of the project, gave their non-binding input, which for the most part was positive.
The people I have been talking to feel that a project like this would in itself be a community benefit, Mayor Pro Tem John Eastman said. Mammoth is dying on the vine.
Councilmember Skip Harvey was the only one who seemed to have real issues with the new design and proposed community benefits, claiming that the innovative ideas were great for the project itself, but not necessarily for the community. He felt that the list of benefits should be developed for specific projects so that the community did not end up with ten conference centers and 15 ice rinks.
A model of the new design for the project was presented at the Council meeting and will be on display for the public in the lobby at the Sierra Nevada Rodeway Inn.