News release
The Mono County Sheriff Search and Rescue team will be hosting an open house this month.
New this year is you do not have to be a resident of Mono County.
The team is a California charitable corporation dedicated to search and rescue, at any time, in any weather, for as long as it takes, for free.
They are a group of volunteer men and women (nobody gets paid) that has been serving Mono County for 50 years, and has logged over 1600 missions since then.
Membership in the Team is fulfilling, often hard work, and fun.
If you love the mountains, consider joining the Team. An open house for new members will be Wednesday, March 15, at 7 PM at the SAR building near Meridian and Hwy. 203. Come and see what they do and what it means to be a member of the Team.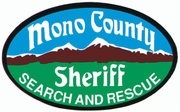 Requirements for new members are a minimum age of 18, a telephone, a currently valid California driver's license, and the health and physical ability to participate in Team training.
Technical know-how and rescue experience is not a requirement. All that is required is dedication and a willingness to learn, since the training program will teach the necessary skills.
For more information, go to monosar.org, or call 760-709-6251.