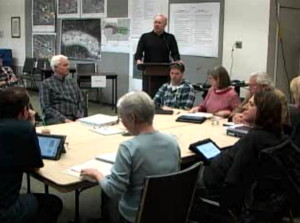 With still no firm way to pay for it, the Main Street Mammoth plan would dress up the entrance to town and could unfold in phases. After they spent more than an hour with the Planning Commission and consultants, the Town Council did vote unanimously to accept the new plan.
Consultant Nore Winter told the officials in a workshop that the plan would give the town a "signature identity. When you arrive," he said, "you know you are there." The plan would keep the same curb lines but create a center median, keep two lanes in both directions, create walkways, plazas and a bike path. Winter said his crew heard a lot about parking in the numerous contacts they had with the public. He said good parking will support economic development and generate revenue.
As for the tricky subject of financing all of this, Winter advised public/ private investments and improvement districts. He said phasing the project is a big part of the plan. Winter said, "We need quick wins – up front and early. He pointed to snow management. Winter did admit that re-development for the private sector is "not real rosy." But, he said that re-configuring Main Street will increase the value of properties.
During the regular Council meeting, Paul Rudder said the plan would require the town's occupancy rate to go up beyond the current 35 to 40%. He said that will translate into money earned by businesses. Councilman John Eastman had raised the question of getting private business owners to get involved. Rudder said quick wins are needed first. He said the Town should, "focus on the next 5 years. Do things on Main Street to make it look better and improve economic development."
With no discussion, Councilman Michael Raimondo made a motion to accept the plan. Councilman Matthew Lehman emphasized the need to focus on short term ideas. Council woman Jo Bacon asked for focus on snow management and parking. The vote was unanimous. Consultants will come back in May with more details about actions that can move forward.