Mammoth Lakes outgrew its library some time ago, and now a new building three times bigger has taken shape on the southeast part of town near the schools. That's not unusual in itself, but what is rare – the project happened because of a tight group of entities. Mono County Librarian Bill Michaels said the exceptional partnership likely outshines any other effort in the state.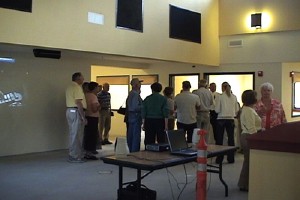 The partners include Cerro Coso College, Mammoth Lakes Friends of the Library, the Town of Mammoth and the State, among others. Before the holiday, a special reception at the partially completed library provided a time to thank donors and show folks the beautiful, big new building. Our Cleland Hoff was on hand for the event.
The building cost around $8 million. More money is needed to furnish the new library and complete data wiring and phones. Librarian Michaels said that they are shooting for a November opening of the new facility which will offer room for 30 to 35% more book materials. The building itself is three times bigger than the old library next to the Community Center.
The new facility will house a large computer section on the first floor and another center upstairs for teens.