Press releases
Northern Inyo Healthcare District, continually striving to ensure the safety of its patients, guests, visitors and staff, announces new hours for Northern Inyo Hospital's Main Lobby as of Sunday, July 10th.
Going forward, the Main Lobby will be open Monday through Friday, 6 a.m. to 6 p.m., and on weekends and holidays, 7:30 a.m. to 6 p.m.
Those seeking weekday Lab Services are encouraged to arrive no later than 5:30 p.m. Weekend Lab hours will continue to be 7:30 a.m. to 12:30 p.m.
Those wishing to visit patients after 6 p.m. are asked to enter through the Emergency Department entrance at the rear of the hospital where Security is located.
This change reduces Main Lobby hours, yet it will improve security by limiting access points to the healthcare facility during overnight hours.
###
High Performing Hospital
During a recent site survey, California Health Care Foundation recently brought to the attention of hospital staff and leadership that Northern Inyo Hospital is recognized by the State of California as a High Performing Hospital based on Maternity Measures.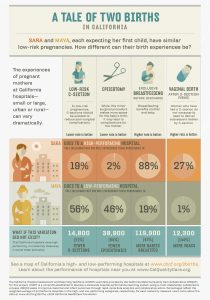 This recognition of NIH as one of the 33 best hospitals in the state is the result of an evaluation process based on low Cesarean section and episiotomy rates and a high rate of mothers exclusively breastfeeding.
Upon hearing the news, Kevin S. Flanigan, MD MBA, Chief Executive Officer of Northern Inyo Healthcare District, noted that NIHD has been committed for nearly a decade "to developing a team and a service that would lead to improved care for the members of the communities we serve."
Knowing that there are more than 260 hospitals in California and that some of those are thought to be among the best in the world, Dr. Flanigan said it is gratifying to see that NIH is therefore listed among the best anywhere.
Acting Chief Nursing Officer Tracy Aspel praised the Obstetrical team, including both physicians and nurses, for achieving this status. "We are very proud of our team and we look forward to continuing to improve our community, one life at a time."