By Deb Murphy
Inyo County's Wellness Center will have a new, permanent home by late spring, a single-story home on Central Avenue in Bishop.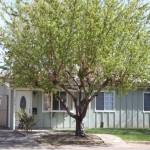 The Board of Supervisors directed staff to go ahead with the $290,978 purchase at last Tuesday's meeting with funding from a Mental Health Services Act grant for capital improvements. "It was the perfect property," said Supervisor Mark Tillemans of the single story home with commercial zoning a block east of Main Street
Health and Human Services' Behavioral Health has operated the Wellness Center at two different locations over the past eight years. The Center provides a safe haven for those suffering from mental illness or homelessness. "We help those struggling with work or relationships," said H&HS Director Jean Turner. "We want to engage people, figure out what they need and offer options."
For the last three years, the center operated out of a commercial rental on South Street. Bringing that facility into compliance with Americans with Disabilities Act requirements would have been too costly. The single story home on Central will only require a re-work of the bathroom to be compliant according to Behavior Health Director Dr. Gail Zwier. That work should be done by late May or early June.
Zwier's staff, psychologists and licensed case workers, provide screening once the Center's clients have their basic needs met. "Our focus has been older adults," said Zwier, but the center also has programs for those Zwier identifies as transitional adults, in the 16-25 age group.
In addition to providing resources, the Wellness Center provides social interaction and peer run recovery groups.  "The programs help those with mental health challenges contribute to the community," said Zwier. "The groups help with Salvation Army food drives. We contribute to community gardens at City Park and the Lutheran Church. We have art and photography projects." The center's clientele enlarge their world by entering their garden and artistic projects in the Tri-County Fair each year.
"Everyone brings gifts to the table," said Turner, "things they can do to give back and become part of the community." Now those gifts will have a real home.