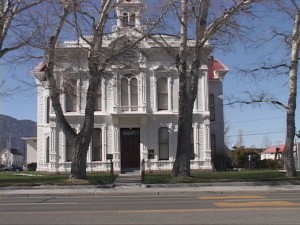 When the Mono Supervisors meet Tuesday, they will go into closed session to talk about a number of things, including selection of a County Administrative Officer and employment of a Finance Director.
Last week, the Board issued a press release to say they had chosen Inyo County Auditor-Controller Leslie Chapman as Mono's new Finance Director. They hope for her to start May 1st. Chapman had said she wants the position which she described as a challenge for the next phase of her life.
The Mono Supervisors will also hold a workshop and consider options available through the Clean Air Project of the Air Pollution Control District to fund solar photovoltaic systems on county facilities. They also planned to hold a workshop on solid waste planning issues.
Tuesday evening at 7pm at the June Lake Community Center, the Supervisors will hold a special meeting to be able to take part in the June Lake Citizens Advisory Committee meeting that will feature the recent trip to east coast ski areas.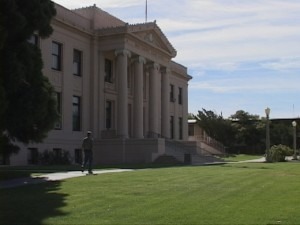 Also on Tuesday, Inyo Supervisors will hear from LADWP's Water Operations Director Martin Adams, who will tell the Board about the City's latest proposal for the Owens Dry Lake.
On another subject, Supervisor Linda Arcularius, Sheriff Bill Lutze and Public Works staff will talk to the Board on concepts for a new Inyo County Animal Shelter.
In closed session, according to the agenda, the Board will talk about the Owens Valley Committee and its lawsuit against Inyo County and the Board of Supervisors over Crystal Geyser's new plant expansion in the Cartago area. County Counsel Randy Keller was not available for comment and neither was Owens Valley Committee's Mark Bagley.
At the February 19th Inyo Board meeting, Bagley had sharply criticized Inyo County's plan to approve Crystal Geyser's expansion. He said that Inyo had not met Environmental Quality Act requirements to examine and mitigate potential reduction of flowing springs due to Crystal Geyser's groundwater pumping. Bagley also pointed to expected impacts on wetlands, wildlife and plants.
Another closed session item – the hiring a new County Counsel when current Counsel Randy Keller retires in a couple of months.
The Inyo Supervisors will also hold a special meeting Thursday at 8am for the performance evaluation of County Administrator Kevin Carunchio. Both Mono and Inyo Boards start meeting in their county seats at 9am Tuesday.