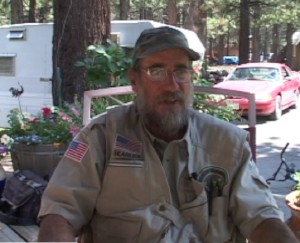 He's the Bear Man about town, star of the Bear Whisperer series on Animal Planet and everybody's neighbor. Steve Searles has a big job once the bears wake up. He watches them, names them, knows where they are and uses a number of methods to keep bears and people at a safe distance. A reporter from the New Hampshire Concord Monitor recently found Searles fascinating. His story was posted online Sunday.
Reporter Marty Basch visited Mammoth Lakes recently. Since New Hampshire has its share of Black Bears, he thought it would make for a good story to get to know Steve Searles, who gave the reporter all the important details for how to keep people and animals living in the same space.
Searles told him about viewing the bears at a safe distance with binoculars or a zoom lens. The main message – don't feed the bears. You can check out the article by going to our website and clicking on the link.
http://www.concordmonitor.com/sports/5761045-95/outdoor-adventures-an-unusual-guy-and-black-bears