Tacked on to the credit card bill signed into law on Friday, a new law requires National Parks to follow state gun laws when it comes to carrying a firearm in the parks.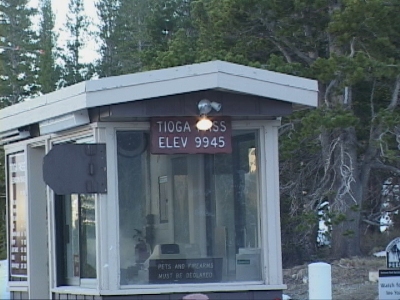 Lost in the nationwide debate over the new gun law for National Parks is information on what the new law actually does. Rights to carry weapons in National Parks have been expanded but details have not yet been worked out. Officials with Yosemite and Death Valley are not entirely sure how this new law will play out in the local National Parks, but changes, at least legal changes, are coming.
Scott Gediman with Yosemite National Park says that staff has begun to examine how the new rule will mesh with California state law and existing federal law. He does say that the new law could lead to more people carrying concealed weapons or open weapons in the National Parks.
Right now the rules are simple for park rangers to sort out. If a person brings a gun into the park it must be stored unloaded and cased separately from the ammunition. Right now this rule applies even to people with valid concealed weapons permits, but this is expected to change when the new legislation goes into effect. It appears that a California concealed weapons permit will be honored by the Parks.
California state law allows a person to carry a loaded firearm in areas where hunting is allowed, but Yosemite and Death Valley do not currently allow hunting. Terry Baldino with Death Valley explained that it will still be illegal for people to carry a loaded firearm while out on a hike.
While the new laws do pretty much allow folks to have weapons, there also may be confusion on the part of the public. Death Valley is actually in two states, so Nevada law and California law might apply depending on the location of the visitor.
In Yosemite, Gediman says that there are still issues that need to be worked out when it comes to carrying a gun in a public building. A person might be able to have a loaded gun in a campground, he says, but how about the Awahnee Hotel?
While people will have a new legal ability to carry firearms in the national parks, Scott Gediman questions the need to bring guns into a park. He says that Yosemite and other National Parks have a low crime rate. He also says that the animals like black bears and deer are afraid of people and pose no threat.
There are still questions as to what this law will mean for our local national parks, but there is still time for park staff to figure out their enforcement strategy. The new law does not go into effect until February 22, 2010. In the meantime the current rules still apply, meaning that if you bring a gun into the park, it must be stored, unloaded, and cased.