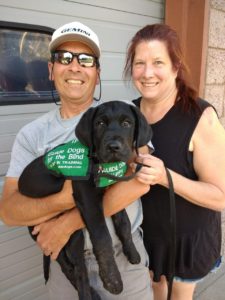 Guide Dogs for the Blind – Bishop/Mammoth Lakes Puppy Raisers has a new club member!
Brindle Labrador Retriever Valdez is the new arrival. This eleven week old puppy is being raised by Shawn and Cammon Wilders of Mammoth Lakes, and is their first Guide Dog puppy. The couple picked up Valdez from the Guide Dogs for the Blind headquarters in San Rafael when he was just eight weeks old.
There are now three puppies in training being raised in the Eastern Sierra. Club co-leader Anne Parkes is raising yellow Labrador Retriever Tinker. Black Labrador Retriever Germaine is being co-raised by Vickie LaBraque of Bishop and Meghan Miranda of Mammoth Lakes.
The club members meet regularly in both Bishop and Mammoth Lakes, and take the puppies on socialization outings all around the Eastern Sierra. Puppy raisers receive the pups when they are between 8 and 10 weeks of age, and raise them for approximately a year, at which time they return to the organization for their advanced training.
The club is always looking for new puppy raisers, puppy sitters and club volunteers. "Raising a Guide Dog puppy is such a fun and rewarding experience," said club co-leader Betsy Thomsen. "You can actually make a wonderful difference in the life of a visually impaired person by being involved in our program."
Puppy raisers teach their pups basic obedience, socialize them and train them to be good canine citizens by introducing them to new experiences.
The pups are returned to Guide Dogs for formal guidework training when they are 14-18 months old.
Following the completion of the training, the dogs are matched with their visually impaired partners. The new person-dog teams completes an intensive in-residence course culminating with a graduation ceremony at which the puppy raiser presents the dog to their new partner.
Guide Dogs for the Blind has been creating life-long partnerships by providing Guide Dogs free of charge to visually impaired individuals since 1942. The organization receives no government funding, but depends entirely on private donations.
For more information on the local puppy raising club, contact Betsy Thomsen at 760-920-8891 or [email protected] or Anne Parkes at 760-920-0762 or [email protected]
Additional information on Guide Dogs for the Blind may be obtained by visiting www.guidedogs.com