The Bureau of Land Management is currently seeking comments on plans to lease 20,000 acres in southern Inyo County for possible Geothermal Development.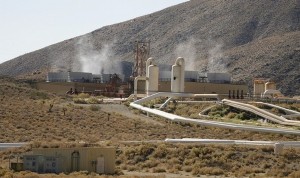 The Coso geothermal plant has produced electricity in the area for years, but now BLM staff has kicked off the environmental process to possibly lease as many as 20,000 acres for additional geothermal development along 395 between Haiwee Reservoir and Coso Junction.
The BLM has received requests from one proponent to lease three different parcels of land for a total of about 4400 acres. The environmental document is planned to look at the surrounding area outside of these lease requests as well. If this plan is approved, John Dalton with the BLM explained that the proponent and possibly others would be allowed to explore for geothermal resources. Plans to actually build a power plant would require a second environmental process.
Water may be an issue for any new geothermal project in southern Inyo. The Coso geothermal plant ran into this problem with plans to pump groundwater from Rose Valley to make up for water losses at the power plant. This case was only recently resolved.
Public comments on this Haiwee Geothermal Leasing Site are due November 9th. More information is available on the BLM Ridgecrest website or by email at [email protected].