In order to pay for maintenance of campgrounds, picnic areas and other amenities in the Reds Meadow area, Forest Service Staff has proposed raising the day use fee for those who drive in.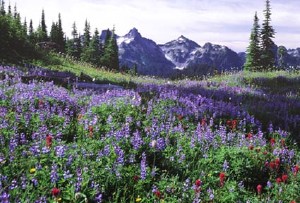 Right now, when you take the mandatory shuttle bus from Mammoth to Reds Meadow, you pay $7 for an adult and $4 for a child. This fee stays the same. The bus is mandatory for most visitors, but there are exceptions. If you do drive one of these, exception vehicles, the fee could go up to $10 per vehicle.
The shuttle fee remains the same, but a person can drive into the Reds Meadow Valley before 7:00 am or after 7:00 pm if they are carrying a passenger with a handicap, towing a horse trailer, camping in a Reds Meadow developed campground, staying overnight at the Reds Meadow Resort, or carring a canoe or kayak for use in the Reds Meadow area.
Matt Peterson with the Forest Service explained that if the vehicle fee goes up, the actual cost to some visitors could go down. Right now it costs $7 a person to drive in, but the new fee would be $10 a vehicle, so if you have passengers youll actually pay less.
Peterson says that this new fee structure could raise $160,000 a year that will be spent on maintenance for trails and picnic areas, but if the raise is approved the Forest Service may hire roving interpretive rangers to teach visitors about the Reds Meadow area. Other possible projects include new picnic areas and a trail for people with disabilities and possibly other new trails.
Peterson explained that the new fee structure is only possible because the Eastern Sierra Transit Authority has taken over the shuttle bus service. When the Forest Service hired contractors to provide bus service in past years, all the money taken at the gate had to go to pay for the shuttles. ESTA now runs the service for less, freeing up the money taken at the gate and allowing this new fee structure change.
The plan is to gather feedback from users this summer. To provide feedback, send comments to Matt Peterson, Inyo National Forest, 351 Pacu Lane, Suite 200, Bishop or drop them off in person at the address above or at any Inyo National Forest Visitor Center. To be most helpful, Forest Service staff would like to receive comments by Labor Day of this year. More information is available on the Inyo National Forest Website.