The following is a press release from Eastern Sierra Transit Authority:
Eastern Sierra Transit will be implementing fare increases and route modification due to increase costs, particularly in fuel, maintenance and insurance, and the reduction of state and federal revenues.
Fare increases will begin on all routes beginning Thursday, September 1st. Discounted rates are available to senior, handicapped and youths 5 to 16 years old.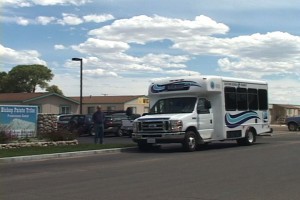 Dial-A-Ride fares in Bishop, Lone Pine and Mammoth will increase between $0.40 and $0.70 depending on your destination and time of day. The new dial-a-ride fares will be:
Adult Discount
Zone 1 $3.00 $2.40
Zone 2 $4.20 $3.60
Nite Rider (Bishop only) $4.20 $3.60
For Town to Town Routes including Lone Pine to Bishop, Benton to Bishop, Mammoth Express and the CREST routes, the increases average between $0.50 and $1.00. To see a detailed fare schedule visit the website at www.estranst.org or call 760-872-1901 ext.20.
Route modification will begin after Labor Day, Tuesday, September 6th.
Mammoth Express will operate Monday thru Friday. Departures from Bishop will be 7:30am, 1:00pm and 6:10pm. Departures from Mammoth will be 7:35am, 2:05pm and 5:20pm. The morning and evening departures are now combined with the CREST Route. The Vanpool between Bishop and Mammoth does have additional capacity for commuters with 8:00am to 5:00pm work schedules.
CREST South between Mammoth and Lancaster will depart 30 minutes earlier. On Monday, Wednesday and Friday the bus will depart Mammoth at 7:35am and Bishop at 8:30am. Departure from Lancaster Metrolink will be 2:00pm.
Lone Pine to Bishop Route time schedule will remain unchanged, however the 6:30pm Bishop to Lone Pine portion will require 24 hour advance reservations. Reservation can be made by calling 760-872-1901 ext. 22.
To see a detailed bus schedules or fares visit the website at www.estransit.org or call 760-872-1901 ext. 20.