Press release
Continued facility modernization and improvements to employee experience topped last Wednesday night's Northern Inyo Healthcare District's Board of Directors meeting.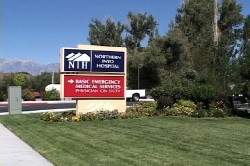 A report from Chief Executive Officer Kevin S. Flanigan, MD MBA, detailed plans to install new radiology equipment within the Northern Inyo Associates Orthopedic and Neurology Clinic. The clinic houses the medical practices of Drs. Mark K. Robinson, Richard B. Meredick and Douglas Will.
Dr. Flanigan said a substantial donation from the Northern Inyo Hospital Foundation was allowing for the improvements, which will include a state-of-the-art X-ray machine. "The existing equipment has been there for many years and is in need of replacement," Dr. Flanigan said. "This improvement will ensure that the orthopedists can accomplish all of the X-ray techniques and studies they need to have a very effective and efficient care process in their offices."
Flanigan told the board that this upgrade would require some remodeling of the existing care space. Barring any surprises, it's estimated the renovation and installation of the equipment will be completed later this summer.
"This step certainly falls into the scope of our mission statement and will allow us to improve our communities, one life at a time," Flanigan said.
In other board news, Chief Human Relations Officer Georgan Stottlemyre brought forth two new policies designed to improve the employee experience at NIHD. The policies create a Workforce Experience Committee and an employee council. These two groups are tasked with creating a "work environment and culture that values and supports employee engagement and accountability."
The Workforce Experience Committee aims to create a work experience that makes staff proud to work at NIHD plus encourages others to want to work at the healthcare facility.
"By enhancing communication, promoting interaction and trust, and actively soliciting employee feedback and follow up, we intend to create the ideal work environment," Dr. Flanigan explained.
Employee Engagement is a measurable degree of an employee's positive or negative emotional attachment to his or her job, colleagues and organization – all of which influences his or her willingness to learn and perform at work.
"Engaged employees are willing to invest all possible effort," he continued. "In a nutshell, they care about their workplace, and that leads to improved experiences not only for them but the patients as well."
The Workforce Experience Committee will consist of Georgan Stottlemyre as NIHD's Chief Human Relations Officer, Kelli Huntsinger as the Chief Operations Officer and Dr. Flanigan as the Chief Medical Officer.
The employee council will consist of Alison Murray as NIHD's Human Resources Manager, and representatives from the district's Employee Education, Employee Health and Community Relations departments. Other employee representatives will be determined as well.
The employee council has three responsibilities. One, they are tasked with informing the administration council of the current workforce environment. They will be asked to provide feedback on the effects of the workforce experience activities at NIHD. Also, they will determine and implement annual objectives, action plans, and projects to meet the Workforce Experience goals and metrics as defined by the Workforce Experience Committee.
The councils are expected to be in place later this spring.
###
About Northern Inyo Healthcare District: Founded in 1946, Northern Inyo Healthcare District features a 25-bed critical access hospital, a 24-hour emergency department, a primary care rural health clinic, a diagnostic imaging center, and clinics specializing in women's health, orthopedics and neurology, pediatrics and allergies and general surgery. Continually striving to improve the health outcomes of those who rely on its services, Northern Inyo Healthcare District aims to improve our communities one life at a time. One team, one goal, your health.