What once raged as a controversy has now become an organized way for backcountry skiers and snowboarders to gain access to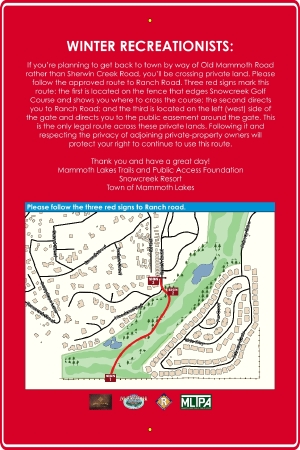 the Sherwin Range and back to Town with marked directional signs.
The way out from the Sherwins goes along a designated route across the Snowcreek Golf Course and ends on the north side of the gate across Ranch Road via a public easement around the gate's west side.
This route and signage happened due to a partnership among the Chadmar Group, the Town of Mammoth Lakes and the Mammoth Lakes Trails and Public Access Foundation. Recreationists are urged to follow this legal route across the Snowcreek Golf Course. Travel across any other part of the Snowcreek Golf Course, which is private land, is prohibited and considered trespassing.
The Snowcreek egress route is the result of a two-year decision-making process, part of the Snowcreek VIII Master Development Plan. Questions? Call Town of Mammoth Public Works Director Ray Jarvis at 934-8989 ext. 257 or Snowcreek's John Morris at 934-3333.