By Deb Murphy
Student athletes at Bishop High School will face a new drug, alcohol and tobacco policy this fall as part of the school's Athletic Code of Conduct, one that Principal Randy Cook said represents a change of philosophy, combining education with accountability.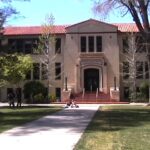 The changes are significant, requiring an athlete to adhere to state and local laws and school regulations 24/7 both on and off campus. In the case of alcohol or drug violations, athletes will be suspended from the current sport season and required to complete a drug and alcohol education program before the suspension is lifted.
Drug violations will carry the added onus of a disciplinary athletic contract with the school's Athletic Committee mandating bi-monthly drug testing and setting standards for grades, attendance and behavior. Consequences for tobacco use, including vapor pens and e-cigarettes, is suspension from one third of the athletic contests which will carry into subsequent seasons.
For second offenses, the consequences are ramped up; for additional offenses "it's time to sit down with that student," said Athletic Director Stacy VanNest.
The district Board of Trustees approved the policy changes unanimously. Trustee Dr. Eric Richman pointed out that the student chooses the consequence of either participating in the diversion classes or not participating in sports.
"Participating in sports is a privilege," Cook said introducing the policy changes at Thursday's special board meeting. "Athletes are held to a higher standard. They can expect accountability 24/7. They represent the school."
VanNest pointed out that the response from the school's 26 coaches has been varied. "Most should be on board," she said. "It gives the athletes a second chance."
Full details of the policy in the school's Athletic Code of Conduct will be provided to athletes and their families.