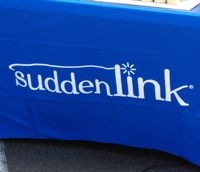 Mammoth Lakes, June Lake Get More HD TV Channels
Suddenlink Completes Move to All-Digital TV Lineup 
** Sierra Wave TV is now viewable on Suddenlink Channel 3 in Mammoth Lakes, June Lake, as well as Bishop, Big Pine, and Independence.
MAMMOTH LAKES, Calif. (Dec. 3, 2013) – Suddenlink announced today it has completed an upgrade to an all-digital TV lineup and added more channels in Mammoth Lakes and June Lake. Digital TV offers superior picture and sound quality.
The project began in October and was completed neighborhood by neighborhood.  Customers were notified directly as changes took place. In the process, Suddenlink added a host of new high-definition (HD) channels to its lineup, as well as new digital channels in standard-definition (SD) format. Customers received new TV lineup cards by mail.
New HD channels include: HSN HD, QVC HD, Discovery Channel HD, TLC HD, Animal Planet HD, AMC HD, Nickelodeon HD, MSNBC HD, C-SPAN HD, NBC Sports Network HD, CMT HD, MTV HD, VH1 HD, Golf Channel HD, TV Land HD, E! Entertainment HD, OWN HD, Investigation Discovery HD, Disney XD HD, The Hub HD, Destination America HD, The Science Channel HD, BBC America HD, H2 HD, Biography Channel HD, FXX HD, Hallmark Channel HD, Oxygen HD, We tv HD, Fox Business Network HD, MTV2 HD, Fuse HD, Music Choice Play HD, Fox Sports 2 HD, CBS Sports Television HD, Outdoor Channel HD, The Sportsman Channel HD, PAC-12 Network HD, NFL Network HD, Independent Film Channel HD, Sundance HD, Hallmark Movie Channel HD, HBO HD and Showtime HD.
Other new digital channels in SD format include: C-SPAN2, C-SPAN3, E! Entertainment, Trinity Broadcasting Network, BYUtv, EWTN, EWTN Español, Three Angels Broadcasting, Nick 2, Disney Junior, mtvU, Lifetime Real Women, RFD TV, Bloomberg, Fox Business Network, Music Choice Play, Sundance, FX Movie Channel and Hallmark Movie Channel.
More information about Suddenlink services is available by going to suddenlink.com and entering an address and zip code; by visiting the company's Mammoth Lakes store; or by calling toll-free 866-269-4386.