On Monday, California Senator Diane Feinstein introduced a new piece of legislation designed to protect large areas of the Southern California Desert. The main thrust of the proposed legislation is to create two new national monuments in the Mojave Desert, but there are a few proposals in this sweeping legislation that could have effects on Inyo County.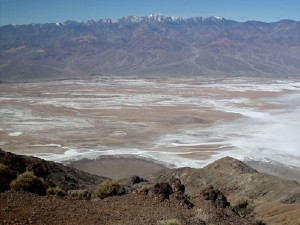 In what will likely be a controversial move for OHV users, Surprise Canyon in the Panamint Mountains is slated to become a designated Wild and Scenic River. This could be the final nail in the coffin of desires to re-open the old but washed out road to the Panamint City ruins.
In the Tecopa/Shoshone area, the legislation calls for an addition to the Wild and Scenic River designation on the Amargosa River.
In other areas of Death Valley National Park, the changes appear to be minor. A BLM administered strip at the southern end of the park adjacent to Fort Irwin is slated to become part of the park. The road into the Owls Head region is set to remain open.
An area off the Big Pine Road that used to be a sulfur mine is set to become part of the park. There is also a strip set to become wilderness in the Panamint Valley at the base of Townes Pass, and another area in the north end of the Eureka Valley is set to become designated Wilderness. Terry Baldino with Death Valley National Park says that no roads that are currently open are set to be closed by this legislation.
About a year ago, Inyo County officials had been in communication with Senator Feinsteins office regarding California Wilderness Coalition proposals to add additional Wilderness designation to Inyo County lands including 38,000 acres of the Malpais Mesa, in the Inyo Mountains above Keeler, 40,000 acres of the Slate Range on the west side of the Panamint Valley, and 8,000 acres of the Great Falls Basin Wilderness Study Area near Trona.
Of these proposals only the Great Falls Basin is in the newly proposed legislation for wilderness designation. The proposal to create additional national monuments has created controversy over what would mean the inability to create solar and wind farms in these areas. Interests representing renewable energy have come up against land conservationists on this one.