Inyo County Dark Sky Group (ICDSG) Announces its Formation
(Press release)
A group of Inyo County citizens has formed the Inyo County Dark Sky Group (ICDSG) to encourage practices and policies that minimize artificial lighting. These policies and practices will enhance 1) the health and safety of the public, 2) animal habitats, 3) night sky viewing and 4) the economy of Inyo County. One of the group's goals is to encourage Inyo County to enact a Dark Sky Lighting Ordinance.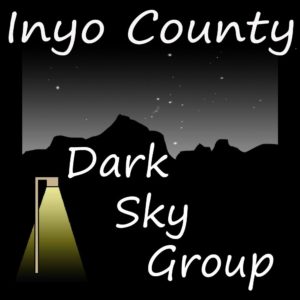 ICDSG's mission statement is to preserve and protect dark skies.
Over our lifetimes, artificial lighting has steadily increased.
Sky glow, trespass lighting, bright lights and glare not only waste energy and money, but also degrade our quality of life. A growing body of scientific evidence points to the negative impact of artificial light on human health, plants and animals.
Lighting practices are being implemented in towns and cities around the world that maintain public safety and preserve the dark sky. We encourage Inyo County residents, businesses and government agencies to protect dark sky by recognizing its benefits to our communities. As one of our natural resource wonders, it should be protected.
For more information contact us at: [email protected] or visit us on the website: inyosky.com