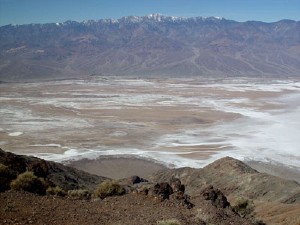 A new cell tower installed at Furnace Creek may have helped save lives in two separate incidents.
Brent Pennington, the Chief Ranger for Death Valley National Park reports that two French nationals, a 27-year-old man and a 21-year-old woman, were rescued from the extreme heat on Monday after making a phone call that may not have connected before this cell tower was installed in recent months.
Heat related deaths are all too common in Death Valley during the summer months. On Monday morning Rangers responded to a 911 call from the two stricken hikers who didnt know where they were, but thought they were near Dantess View. The temperature was about 117 degrees, and the two hikers had no water. Pennington reports that their vehicle was found at the Zabriskie Point parking lot. With Rangers searching on foot, a Navy helicopter out of China Lake spotted the two and hoisted them to safety.
Pennington says that there was potential for a very dire situation, and added that before the cell tower was installed at Furnace Creek, the two may not have been recovered until it was too late. The cell coverage is not widespread in Death Valley, he says, but in this case it worked.
In another incident on Monday the 13th, a young man from Fredericksburg, Virginia, decided to hike from Badwater to the Mahogany Flat Campground high in the Panamint Mountains. The man left at 5:00 in the morning and planned to meet his girlfriend at the campground at 2:00 pm. The girlfriend called the authorities when the man didnt show up by 4:00 pm.
At around 6:00 pm, Pennington says that the missing man used a cell phone to place a 911 call. After hiking all day in temperatures in the low 120s, the man had crossed the eight mile wide valley and made to the foot of the Panamint Range where he sat down by a spring to rehydrate. The man had been carrying perhaps a gallon of water, but by the time he got to the spring, he was so dehydrated and nauseous that he couldnt keep water down. Pennington estimates that the man had about a half an hour to live when rangers reached him.
The cell phone call made the difference. Pennington says that rangers have seen six people die over the years from trying this exact hike. The extreme temperatures of Death Valley in the summer lead park staff to recommend that people not hike in the lower elevations and if they do, to stay in sight of their cars.
In these two cases a recently installed cell tower allowed rescuers to arrive in the nick of time. Fortunately no one died, but as Chief Ranger Pennington said, it was, not for lack of trying.