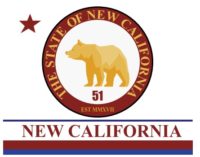 New State? Free from Tyranny? What?! Find out at Town Hall Meeting on Saturday, June 26
Paul Preston is the Founder of the New California State movement which seeks to split the state of California into separate states. While these efforts to split the state have always failed in the past, as have all attempts at secession throughout U.S. History, you never know!
If you're interested, Preston will be here on Saturday, June 26 at Astorga's Mexican Restaurant located at 2206 N. Sierra Highway in Bishop. The Town Hall will start at 10am.
New California State wants to know what your concerns are with:
Your Children's Education due to Governor Newsom's Mandates
Your thoughts about our Second Amendment Rights
Our Election Procedures
It should be an interesting meeting, whether you agree with the premise or not.
This is not an advertisement for the proposal or idea. It's an interesting proposition that has been around for many years in California history. You might want to look into more information from a variety of, hopefully, reliable sources. There's actually quite a bit of information out there, if you are interested in being informed on the topic.
Let Sierra Wave News know what you think about the idea in our Comments Section.
Click here For a perspective on the History of California Partition and Secession.