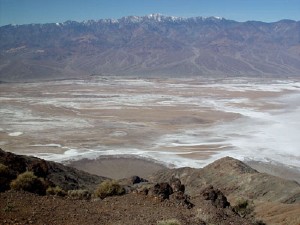 In December, California Senator Diane Feinstein introduced a new piece of legislation designed to protect large areas of Southern California Desert. This week the Inyo County Supervisors weighed in with their concerns about this sweeping piece of legislation.
The main thrust of the proposed legislation is to create two new national monuments in the Mojave Desert, along with new areas of designated Wilderness in Death Valley National Park. With less than 2% of the land in Inyo County in private ownership, designated wilderness is a hot button issue for the Inyo Supervisors.
Much of the land in question in Inyo County is in Death Valley National Park which is set to expand by 41,000 acres. Some of this land is already within Park boundaries like the sulfur mines at Crater off the Big Pine Road. A BLM administered strip at the southern end of the park adjacent to Fort Irwin is slated to become part of the pPark. 91,000 acres of the National Park are slated to become wilderness as well.
A new 7800 acre wilderness area at Great Falls Basin near Trona would be created, while a nearby wilderness study area would be released. A section of the Amargosa River in southern Inyo County would be designated a wild and scenic river as would a section of Surprise Canyon in the Panamint range, once popular with off road enthusiasts.
At the board meeting, the supervisors directed staff to write a letter to Senator Feinstein to spell out Inyo County concerns with the new Desert Protection Act. The supervisors have concerns with revenue sharing plans if solar power or other renewable energy facilities are built on federal land in Inyo County. The board also wants to ensure that the federal government designates some lands in Inyo County as solar power zones.
The supervisors also want all Wilderness Study Areas that have never been officially designated Wilderness like parts of the Table Lands near Bishop, to be released from Wilderness Study Area status. The supervisors would also like more reliable funding from the federal government, known as PILT, or payment in lieu of taxes that is supposed offset county costs to service areas on federal lands.
The board also planned to ask for a meeting with Senator Feinstein. The supervisors approved sending the letter to the Senator 5-0.