The quagga mussel threat continues to cause trouble for local recreation. The Department of Water and Power plans to close Klondike Lake to motorized boat traffic.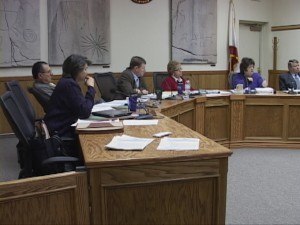 As the Department of Water and Power staff works with Inyo County to find a way to inspect boats for the invasive quagga mussel at Diaz Lake near Lone Pine, a different approach is slated for Klondike Lake, a popular spot for swimming, water skiing, and sailing near Big Pine.
At the Inyo Supervisors meeting Tuesday, Clarence Martin with DWP explained that while Diaz Lake is relatively isolated, Klondike Lake drains into the Owens River. With the goal of keeping the water system free of the high potential threat, of the rapidly reproducing mussel, the current plan is to eliminate motorized vessels, which can carry quaggas, from the lake.
Kayaks, and wind surfers would still be allowed to use the lake, as would swimmers, but boats for water skiing and jet skis, popular with Klondike users, would not be allowed.
The fear is that ski boats and jet skis used in quagga positive waters like Lake Mead could be brought to the Owens Valley, spreading the mussel within days.
Klondike Lake was legally written into the water agreements between Inyo County and the City of Los Angeles as a recreation area and wildlife habitat. How this new restriction on motorized boats fits into the agreement wasnt known. Supervisor Susan Cash advocated taking the issue to the Inyo/LA Standing Committee that meets to discuss water issues.
Cash was also concerned that this emergency closure would remain permanent. She explained that Haiwee Reservoir, south of Olancha, was closed to the public five years ago for security reasons also on an emergency basis.
Department staff said that they are open to suggestions on how to keep the mussel out and the lake open; but unless something changes, the new restrictions are set to go in place May 15th.