As promised, new tenants continue to open up in The Village at Mammoth. Once dubbed the "Ghost Village", the large center goes on with renegotiated deals and new deals.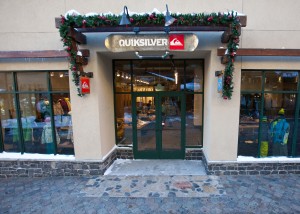 Mammoth Mountain revealed that Starbucks will open in The Village December 17th. It's described as a 7am to 7pm daily store.
The next day, December 18th, a new Quiksilver store will open in The Village. Mammoth Mountain explained that the 3,740 square foot store will open in the center of the retail area. Quiksilver, well known for product design, development and sales, with a focus on youthful outdoor gear.
Mammoth Mountain's Director of Action Sports, Oren Tanzer said Quiksilver and Mammoth have been partners in terrain park progression for over a decade. He called the new store good news for "Unbound Park shredders to get outfitted."
Mammoth's Unbound Terrain Parks and Quiksilver have partnered for over 12 years helping to build creative features including the Main Park's large skate-inspired pyramid made of 100% steel and coated in plastic.
Earlier, long-time tenants in the Village reached an agreement with owners CNL and Intrawest with reportedly better rents and other conditions. CNL promised to bring new tenants in to bring back vitality to the waning feature.
Local business, Gomez's moved in to the old Hennessey's space and Mammoth Mountain plans to open a new restaurant.