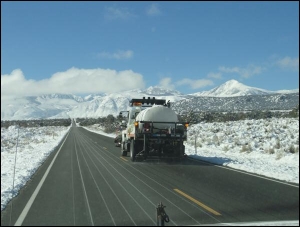 (Press Release)  Caltrans Using Salt Brine to Rapidly Melt Ice, Snow on Eastern Sierra Highways and Make Winter Driving Safer  
Mixture of water and sea salt is 20 times more effective than salt alone, better for environment, and cost effective
BISHOP – For the first time in Mono and Inyo counties, Caltrans has begun using an anti-icing solution called salt brine on state highways in the Eastern Sierra that melts snow more quickly and reduces the chance of dangerous ice forming on the pavement.
"This is a win for everyone. We're making winter driving safer for the public, and we're also saving taxpayers money," said Caltrans Director 9 Tom Hallenback. "It takes four times less salt to prevent ice from forming than to remove the ice after it has formed."
Salt brine is also more environmentally-friendly – one-third less salt is used in the mixture when compared with other methods – and highways and bridges treated with brine will resist frost for several days per application. This decreases the length of time chain controls are in effect, the amount of traction sand used, and highway workers' exposure to moving traffic.
Caltrans sprays the solution onto a highway prior to the arrival of a winter storm –
a proactive approach to winter road maintenance called anti-icing. In the same way that a light coat of cooking oil in a frying pan prevents food from sticking, the salt brine treatment prevents significant amounts of ice from building up on highways, making them easier to plow.