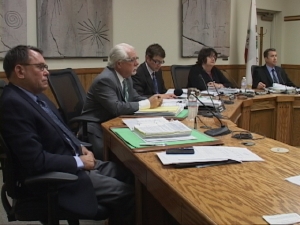 When the Inyo Supervisors meet Tuesday, they will focus on an update regarding the fundraising efforts for construction of a new animal shelter.
Ted Schade, who is President of the organization, ICARE, said that the group is in fundraising mode for the much-needed animal shelter. The current facility outside Big Pine has only limited space, kennels and cages for stray dogs and cats. This is a County facility, but it is unknown to what extent County government will support this effort.
For those who want to see a new animal shelter, donations can be sent to ICARE at P.O. Box 76, Bishop. That item was scheduled to come up at 11am at the Board meeting Tuesday.
In closed sessions, the Supervisors expected to confer with their lawyer over the lawsuit filed by the Los Angeles Department of Water and Power against Inyo and the Board of Supervisors over the Blackrock 94 dispute filed by the County.
Inyo Water officials have said that documents show significant damage in that Blackrock area – damage done by DWP groundwater pumps. LA's response was to sue Inyo.
The Owens Valley Committee sued Inyo County and the Board over their approval of the Crystal Geyser Roxanne plant expansion. The Committee states that Inyo failed to live up to environmental requirements to protect the area. That issue, too, will go to closed session on Tuesday.