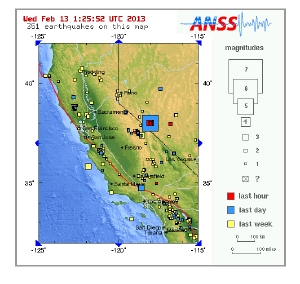 A 5.2 earthquake centered 44 miles west of Tonopah, according to the U.S. Geological Survey, was felt throughout the Eastern Sierra at ten minutes after 4pm Tuesday. Bishop residents who contacted USGS said they were told the quake was centered 69 miles northwest of Bishop.
At the Sierra Wave studios the quake seemed long and rolling. Nothing fell off the shelves. We talked to the Mammoth Police Department and others in Mammoth and Bishop. Everyone felt the quake but, again, no damage of any kind reported.
We also talked to someone at the Station Casino in Tonopah. She said the staff there felt nothing. At Northern Inyo Hospital in Bishop, where 200, 50-foot long foundation pylons brace the new hospital, they did not feel the earthquake at all. USGS reported several after shocks of lesser magnitude.